COVID-19 safety information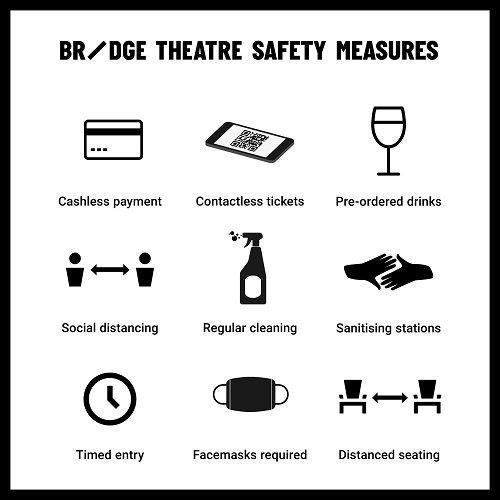 The government has announced that, from next Monday, the limit on social gatherings will be reduced from 30 to 6. This change does not affect performances at the Bridge Theatre as we are a COVID secure venue. This is because we are following the safety and hygiene measures for businesses set out by the government in its performing arts guidance. Alongside this, tickets are only available in fixed groups, where 1, 2, 3, or a maximum of 4 tickets are seated together; each group must only consist of one household or support bubble; each group is distanced by 1m+ from the other groups.  You can see photos of the seating arrangement at the bottom of this page.
You'll find more information on our FAQs page.
Information before you visit
The day before your booked performance, you'll receive an email containing all the information you'll need for a safe and smooth visit. (If you don't see this, make sure you check your junk folder.) You'll also receive a text reminder (including a link to pre-order your drinks) on the morning of your visit, so please make sure you have a mobile number on your account. Everyone's temperature is checked on arrival and face coverings are mandatory throughout the venue. The theatre is cleaned
If you are a ticket holder for any of our shows which have been postponed during this period you can see more details regarding your booking here.
If you have any further questions please email info@bridgetheatre.co.uk.
Our socially-distanced auditorium
Remaining seats are arranged in 1s, 2s, 3s and 4s, with at least 1 metre gaps in between, to allow bubbles to sit together.
Exchanges & Refunds
If the season is delayed, an automatic refund will be given for any performance that can't go ahead.
If you cannot attend the performance due to having to isolate, contact us and we will guarantee you a refund up to 2 hours before the performance or help you exchange into an alternative performance. Email boxoffice@bridgetheatre.co.uk  for more details.