A German Life
A new play by Christopher Hampton, drawn from the life and testimony of Brunhilde Pomsel, directed by Jonathan Kent
"I had no idea what was going on. Or very little. No more than most people. So you can't make me feel guilty."
Brunhilde Pomsel's life spanned the twentieth century. She struggled to make ends meet as a secretary in Berlin during the 1930s, her many employers including a Jewish insurance broker, the German Broadcasting Corporation and, eventually, Joseph Goebbels. Christopher Hampton's play is based on the testimony she gave when she finally broke her silence to a group of Austrian filmmakers, shortly before she died in 2016. 
Maggie Smith, alone on stage, plays Brunhilde Pomsel. 
Christopher Hampton's play is drawn from the testimony Pomsel gave when she finally broke her silence shortly before she died to a group of Austrian filmmakers, and from their documentary A German Life (Christian Krönes, Olaf Müller, Roland Schrotthofer and Florian Weigensamer, produced by Blackbox Film & Media Productions).
'Maggie Smith makes a stunning return to the stage'

Ann Treneman, The Times ★★★★★
'An acting master-class'

Dominic Cavendish, The Daily Telegraph ★★★★★
'Maggie Smith returns in triumph'

Michael Billington, The Guardian ★★★★
'A brilliant performance'

Sarah Hemming, Financial Times ★★★★★
'Maggie Smith returns triumphantly'

Henry Hitchings, Evening Standard ★★★★
'This surely is the theatre event of the year'

Aleks Sierz, i ★★★★★
Choose Dates & Book
General Information
This production is currently SOLD OUT.  Please do not buy tickets from any third party websites offering tickets, these sites have not been given tickets by us, if you see it report it to boxoffice@bridgetheatre.co.uk and we will follow up with those sites directly to get these tickets taken down.
If you have tickets and can no longer make the performance of A German Life please email boxoffice@bridgetheatre.co.uk  and we can assist you in returning these tickets, our full returns policy can be found on our Terms and Conditions of Sale.
If you are found to be re-selling tickets for a profit your tickets will be cancelled and your account suspended with us.
Do ensure you are signed up to our mailing list for updates on any ticket releases.
Ticket Prices
£69.50, £55, £39.50, £25, £15
Reduced prices for previews
Premium tickets available
£15 day seats available from 10am on the day of the performance at the box office in person – 1 ticket per person. Subject to availability.
Download TodayTix to get exclusive £20 lottery tickets
Young Bridge £15 Allocation
Under 26? – join our
Young Bridge
scheme and access to an exclusive allocation of £15 tickets
Log on
to your account and look for the starred seats when buying online
Performance Schedule
Monday to Saturday 7.30pm
Running time
1 hr 40 mins approx (no interval)
From the programme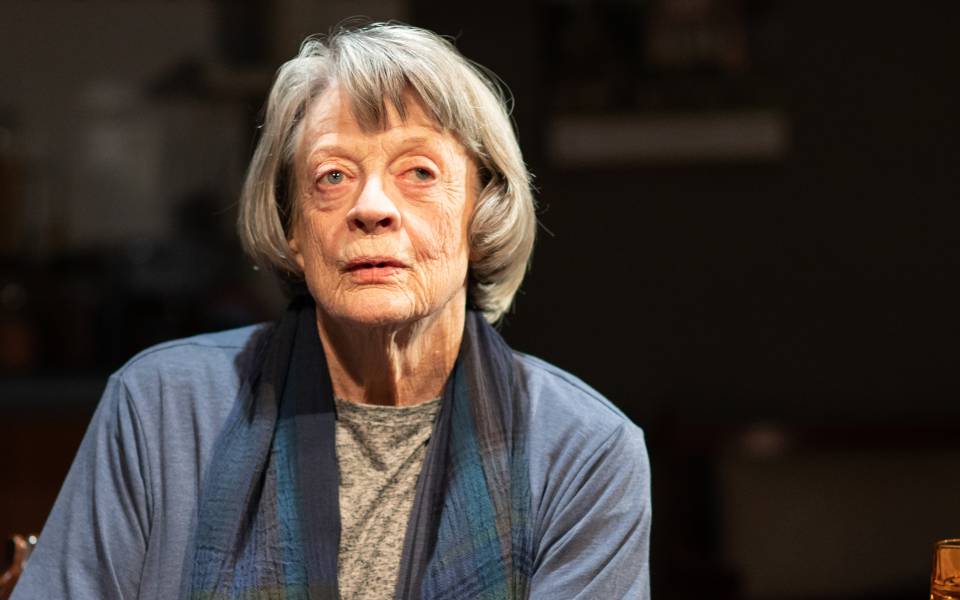 Directors of the film A German Life
We came across Brunhilde Pomsel whilst doing research on a different matter and immediately saw this as a 'once-in-a-lifetime' chance to portray one of the last contemporary witnesses who had been actively involved at the centre of the…
More →
Cast
Brunhilde Pomsel
Maggie Smith
Maggie Smith made her debut with the Oxford University Drama Society (OUDS) as Viola in 1952 and since then has been awarded two Academy Awards, countless Best Actress Awards, and both the CBE and DBE. In 2014 she was honoured to be made a Companion of Honour by Her Majesty the Queen. She received the Hamburg Shakespeare Prize in 1991, is a Fellow of the BFI, and was awarded a Silver BAFTA in 1993. She is an Honorary D.Litt of Cambridge University and St Andrews, and is a patron of the Jane Austen Society. She is a Vice President of the Royal Theatrical Fund.
Theatre includes As You Like It, The Merry Wives of Windsor, Richard II and What Every Woman Knows. In 1963 she joined the National Theatre at the Old Vic and appeared in Othello playing Desdemona opposite Laurence Olivier, Much Ado About Nothing, Miss Julie, The Recruiting Officer, Hay Fever, The Master Builder, Black Comedy, The Beaux' Stratagem, Three Sisters, Hedda Gabler and also Coming in to Land for Peter Hall at the National on the South Bank. In several seasons at Stratford, Ontario, between 1976 and 1980 she appeared in Antony and Cleopatra, The Way of the World, The Three Sisters, The Guardsman, As You Like It, Macbeth, Much Ado About Nothing, The Seagull and Virginia. West End includes: Share My Lettuce, Rhinoceros, The Rehearsal, The Private Ear & The Public Eye, Mary Mary, Private Lives, Peter Pan, Night and Day, Virginia, Interpreters, The Infernal Machine, Lettice and Lovage, The Importance of Being Earnest, Three Tall Women, Talking Heads, A Delicate Balance, The Lady
in the Van, The Breath of Life, and The Lady from Dubuque.
Film includes Oh, What a Lovely War!, The Prime of Miss Jean Brodie, Death on the Nile, Travels With My Aunt, California Suite, A Private Function, The Lonely Passion of Judith Hearne, Hook, Sister Act, The Secret Garden, Richard III, First Wives Club, Washington Square, Tea with Mussolini, The Last September, Gosford Park, Divine Secrets of the Ya-Ya Sisterhood, Keeping Mum, Becoming Jane, The Best Exotic Marigold Hotel, Quartet, The Second Best Exotic Marigold Hotel, My Old Lady and most recently The Lady in the Van. She is also known worldwide as Professor McGonagall in the Harry Potter films. 
Television includes Mrs Silly, Talking Heads: Bed Among the Lentils, Memento Mori, Suddenly Last Summer, All the King's Men, David Copperfield, My House in Umbria, Capturing Mary, and most recently playing the Dowager Duchess in Downton Abbey.
April 2019
Creative Team
Writer
Christopher Hampton
Writing credits include The Philanthropist, Savages, Tales from Hollywood, Les Liaisons Dangereuses, White Chameleon, The Talking Cure, Embers, Appomattox, All About Eve, Youth Without God and the musicals Sunset Boulevard and Stephen Ward.
Television includes The History Man and Hotel du Lac.
Screenplays include The Honorary Consul, The Good Father, Dangerous Liaisons, Mary Reilly, Total Eclipse, The Quiet American, Carrington, The Secret Agent, Imagining Argentina, Atonement, Chéri and A Dangerous Method. 
Christopher Hampton's plays, musicals and translations have garnered four Tony Awards, two Olivier Awards, four Evening Standard Awards and the New York Theatre Critics Circle Award. Prizes for his film and television work include an Academy Award, two BAFTAs, a Writers' Guild of America Award, the Prix Italia and a Special Jury Award at the Cannes Film Festival.
April 2019
Theatre includes A German Life and A Very Very Very Dark Matter at The Bridge; Hedda Tesman at Chichester; Death of a Salesman at the Young Vic; Home, I'm Darling for Clwyd Theatr Cymru, the National Theatre and in the West End (Olivier nominations for Best Set Design and Best Costume Design); The Writer and Before the Party at the Almeida Theatre; The Way of the World at the Donmar; Everybody's Talking About Jamie at Sheffield Crucible and in the West End; Hangmen (also West End; Olivier, Critics' Circle and Evening Standard Awards for Best Set Design) and Liberian Girl at the Royal Court; Much Ado About Nothing and Troilus and Cressida at Shakespeare's Globe; The Kid Stays in the Picture for Complicité at the Royal Court; Rosencrantz and Guildenstern Are Dead at the Old Vic; Beware of Pity for Schaubühne Berlin/Complicité: Tiger Bay at Wales Millennium Centre/Cape Town Opera; Terror at the Lyric Hammersmith; Don Juan in Soho for Playful/West End; Rent: 20th Anniversary Production at St James Theatre/Theatr Clwyd and UK tour; The Exorcist at Birmingham Rep and West End; The Two Noble Kinsmen, Cymbeline and Love's Sacrifice at the RSC; Henry V at Regent's Park; Before I Leave for National Theatre of Wales; The End of Longing in the West End; John and Can We Talk About This (also international tour and Sydney Opera House) for the National/DV8 Physical Theatre; West Side Story, Blindsided, Saturday Night and Sunday Morning and Rat's Tales for Royal Exchange Manchester; Love the Sinner at the National Theatre; As You Like It at Curve Leicester; and You Can See the Hills and Love and Money for the Royal Exchange Manchester/Young Vic.
Opera includes Don Giovanni, Iphigénie en Tauride, Paul Bunyan and King Priam (Olivier Awards for Outstanding Achievement in Opera) for English Touring Opera; Candide
for Opéra National de Lorraine; and Zaide for Sadler's Wells and Classical Opera Company UK tour.
Dance includes Second Coming for Scottish Dance Theatre.
September 2019
Theatre includes designing sound for over 140 National Theatre productions including Follies, The Plough and the Stars, The Silver Tassie, Children of the Sun, The Cherry Orchard, Hamlet, Present Laughter, Rafta Rafta, The Rose Tattoo, The Man of Mode, The Life of Galileo, The Royal Hunt of the Sun, Once in a Lifetime, Henry IV Parts 1 and 2, The House of Bernarda Alba, His Dark Materials, A Funny Thing Happened on the Way to the Forum, Stuff Happens, Cyrano, Henry V, Edmond, A Streetcar Named Desire, The Coast of Utopia, The Wind in the Willows, Carousel (co-design with Mike Walker), Sunday in the Park with George, Sweeney Todd, A Little Night Music, Guys and Dolls, Candide, South Pacific, Oklahoma!, My Fair Lady and Anything Goes. 
Elsewhere, his work includes Cost of Living, I and You, Good People, Chariots of Fire, Loyalty, Rabbit Hole and 55 Days at Hampstead; Matthew Bourne's Nutcracker!, Highland Fling, Edward Scissorhands, The Car Man, Cinderella, Sleeping Beauty, The Red Shoes and Romeo and Juliet; CoisCéim's Mermaids; Lady Day at Emerson's Bar and Grill, Everybody's Talking About Jamie, Sweet Bird of Youth, Guys and Dolls, Gypsy, Show Boat, Dirty Rotten Scoundrels, Sweeney Todd (Olivier nomination), Flare Path, Waiting for Godot, Porgy and Bess, Bad Girls the Musical, Acorn Antiques, Oliver!, Endgame and Bent in the West End; Mary Poppins UK tours, Holland, Vienna, Stuttgart, Hamburg and US tour; and Design for Living at the Old Vic. Future projects include The Boy in the Dress for the RSC; and Oklahoma! at Chichester.
Paul Groothuis is a visiting lecturer at the Hong Kong Academy of Performing Arts and Rose Bruford College.
April 2019 
Documentary film makers
Christian Krönes
During his film and directing studies Christian Krönes was able to accompany and work alongside the legendary DOPs Vittorio Storaro and Sven Nykvist. After gaining experience on international film-sets he started work in the television sector and directed a variety of TV formats for renowned European television companies. Work on a film project with Sir Peter Ustinov soon developed into a friendship and resulted in years of artistic collaboration. Sir Peter's wish for Krönes to work for the Ustinov Foundation was soon accepted and so he became the personal advisor and manager for Sir Peter up until his death in 2004. In 2006, Christian Krönes formed Blackbox Film and with over 30 years of experience in the film branch is now active as managing director and producer.
April 2019
Olaf S. Müller
Olaf S. Müller studied History and Philosophy at the Universities of Göttingen and Berlin. He has been working as a freelance author, director and producer since 1997. During this period he has made numerous films for German broadcasters such as Deutsche Welle, MDR and 3SAT. Since 2004 he has been, as a producer, responsible for various TV shows, but has always continued to work on documentary film projects worldwide. Müller joined the Blackbox Collective in 2011 and lives in Berlin.
April 2019
Roland Schrotthofer
Roland Schrotthofer studied Theatre, Film and Media, Psychology and Business Management at the University in Vienna. During his studies he developed and worked on several theatre and film projects. His short film Grenzgänger received the 'Shorts on Screen' Award from the Austrian Broadcasting Corporation ORF. As producer and author Schrotthofer is a long-term member of the Blackbox Collective since 2011.
April 2019
Florian Weigensamer
After studying Political Science and Communication Science at the Universtiy of Vienna, Florian Weigensamer gained journalistic and writing experience at Austria's foremost news magazine profil. In 1995 he joined the editorial team of Vienna News International where he directed and designed numerous reports and documentaries for European broadcasters. Later on, together with Christian Krönes, he exclusively produced and directed political and social reports and documentaries from Mid/Eastern Europe and Asia for Arte. At the same time he worked on film and multimedia content for museums and exhibitions. After collaborating with various artists in different media in San Francisco for more than a year he became founding member, author and director of the Blackbox Collective in 2006.
April 2019