Nine Lives
Overview of the production
Presented by Leeds Studio
Fleeing from his home where a fresh wave of homophobia threatens his life, Ishmael has sought sanctuary in the UK.  Dispersed to Leeds, Ishmael waits to hear his fate, he waits for a new life to begin amongst strangers.  But not everyone is bad… can he find a place to call home again?  Some of us wanted to stop being afraid. Some of us wanted to find ourselves. Some of us wanted to belong. 
Zodwa Nyoni threads together humour and humanity to tell the real personal story behind asylum headlines.
Additional content
Cast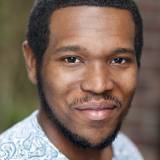 Lladel Bryant
As well as previously performing Nine Lives, Lladel Bryant's theatre credits include The Night Before Christmas and A Christmas Carol for Leeds Playhouse, Shed Crew and Bittersweet Sunshine for Red Ladder Theatre Company and Concrete Jungle for Manchester Fringe Festival.  His screen credits include DCI Banks and The Raven Tournament.
August 2020
Creatives
Zodwa Nyoni is a playwright, poet and screenwriter.  She was the 2014 Writer-in-Residence at West Yorkshire Playhouse/Channel 4 and a finalist for the Susan Smith Blackburn Prize.  She has made short films with the Young Vic, National Trust, Tyneside Cinema, BBC Films and BFI Film Hub North. Currently under commission by the Kiln Theatre and Manchester Royal Exchange Theatre, Nyoni is published by Bloomsbury.
August 2020
Alex Chisholm is the Co-Artistic Director of Freedom Studios in Bradford. Chisholm directed Nine Lives for West Yorkshire Playhouse, a UK tour and the Arcola Theatre and Conscientious for the West Yorkshire Playhouse and a UK tour.  While Associate Director at the West Yorkshire Playhouse her credits include Schoolboy/Lover, Dust, Mela, Scuffer, Tender Dearly, Non-Contact Time and Huddersfield.
August 2020
Composer
Jonathan Girling