Simon Amstell: Work in Progress
Comedian, writer and director Simon Amstell will perform his Work in Progress for ten performances only from 12 – 23 January 2021 each at 9.15pm, for audiences aged 16 +.
Simon Amstell hones new stand up material for a possibly forthcoming tour. Some thoughts will be more developed than others. 
Previous shows include Do Nothing, Numb: Live at the BBC and his recent Netflix special, Set Free.
Poster image by Harry Carr.
"A masterclass in the soul-searching, abject comedy that has come to define a generation" VICE
"Simon Amstell has a gift for taking a social norm and gently mocking it until it seems utterly ridiculous. Highly literate… an endearing mixture of offhanded candour and sharp wit. Such ease and understatement makes him very good company" The New York Times
Choose Dates & Book
General Information
Ticket prices
£30, £25, £20
Length
60mins straight through
Age recommendation
16+
Performed by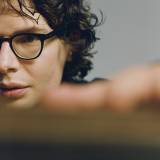 Simon Amstell