Young Marx
This production ran from 18 October – 31 December 2017
1850, and Europe's most feared terrorist is hiding in Dean Street, Soho. Broke, restless and horny, the thirty-two-year-old revolutionary is a frothing combination of intellectual brilliance, invective, satiric wit, and child-like emotional illiteracy.
Creditors, spies, rival revolutionary factions and prospective seducers of his beautiful wife all circle like vultures. His writing blocked, his marriage dying, his friend Engels in despair at his wasted genius, his only hope is a job on the railway. But there's still no one in the capital who can show you a better night on the piss than Karl Heinrich Marx.
Rory Kinnear plays Marx and Oliver Chris, Engels. The production reunites the creative team behind Richard Bean's smash hit One Man, Two Guvnors, with direction by Nicholas Hytner, design by Mark Thompson, music by Grant Olding, sound by Paul Arditti and lighting by Mark Henderson.
Young Marx was broadcast by National Theatre Live on 7 December. For details on Encore screenings of this production please visit ntlive.nationaltheatre.org.uk
"A SERIOUSLY CLEVER COMEDY. RIOTOUS FUN."

The Times ★★★★
"HIGH MARX FOR BRIDGE THEATRE'S OPENING SHOW."

Evening Standard ★★★★
"RORY KINNEAR IS ON GLORIOUS FORM."

The Independent ★★★★
"THE EVENING FEELS ALIVE BOTH WITH TRUTH AND WITH REINVENTION."

The Observer ★★★★
Choose Dates & Book
General Information
Ticket Prices
£65, £50, £35, £25, £15
Reduced prices for previews & midweek matinees
Premium tickets available
Download TodayTix to get exclusive £20 rush tickets
Performance Schedule
Tuesday to Saturday 7.45pm, Wednesday & Saturday 2.30pm & Sunday 3pm
Length
Approximately 2 hours 20 minutes (including an interval)
Additional Information
Contains strong language, sexual references and violence
From the programme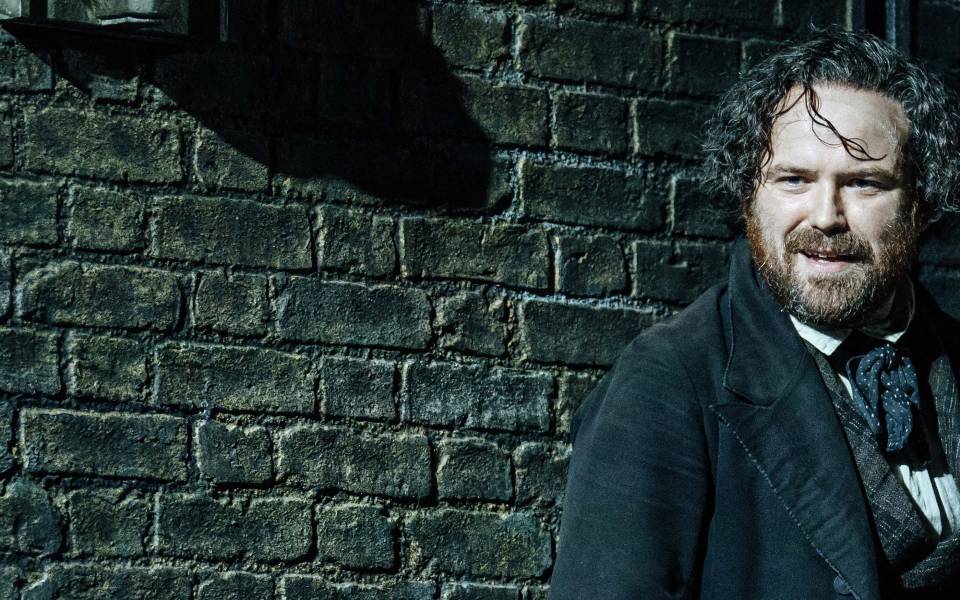 Francis Wheen
It is one of Karl Marx's most quoted lines: "Hegel remarks somewhere that all great world-historic facts and personages appear, so to speak, twice. He forgot to add: the first time as tragedy, the second time as farce." As something of a world-historic…
More →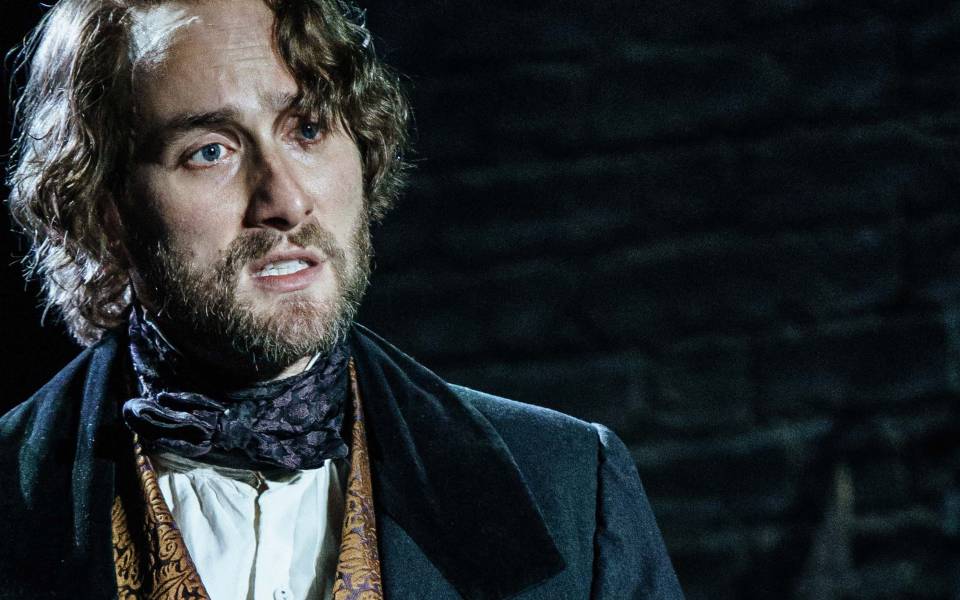 Tristram Hunt
"Marx was a genius; we others were at best talented." The secret to the friendship between Karl Marx and Friedrich Engels – perhaps the greatest intellectual companionship in Western political thought – lay in Engels's acceptance…
More →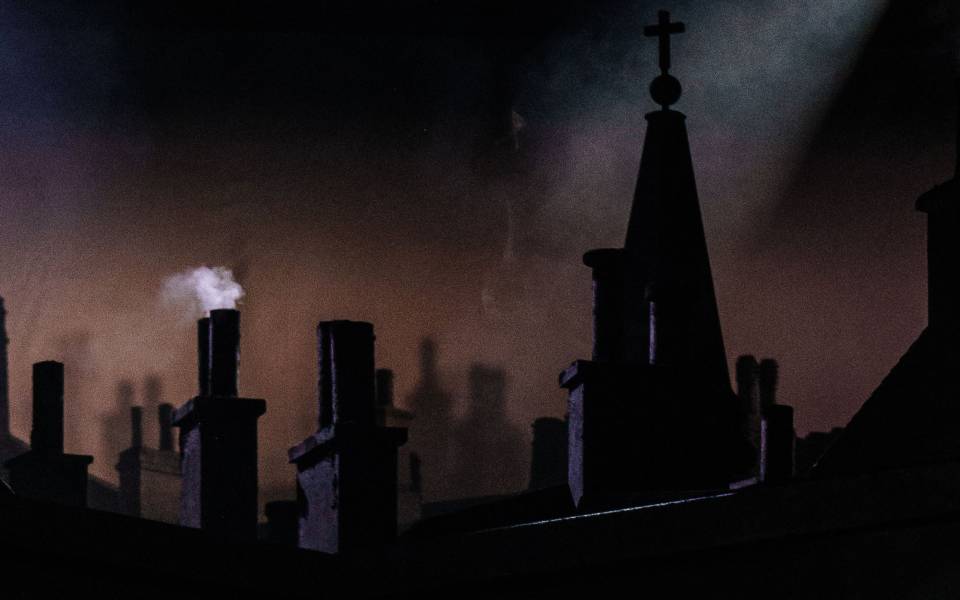 Rosemary Ashton
Two years after the failed 1848 revolutions in all the capital cities of Europe – all, that is, except London – Soho was the area in which the largest number of foreign political exiles were to be found. Here they lodged in cheap rooms…
More →
Cast
Creative Team
Richard Bean was born in Hull in 1956. After school, he worked in a bread plant before leaving to study Psychology at Loughborough University. He has worked as a psychologist and a stand-up comedian.
Plays for the stage include The Hypocrite (Royal Shakespeare Company and Hull Truck), Kiss Me (Hampstead Theatre), The Nap (Sheffield Crucible); The Mentalists (Wyndham's); Made In Dagenham (Adelphi); Toast (Royal Court; Park); Pitcairn (Out of Joint / Chichester Festival Theatre / Shakespeare's Globe); Great Britain (National Theatre and West End); Under The Whaleback (Royal Court; Wilma Theater, Philadelphia); One Man, Two Guvnors (National Theatre / West End / Broadway / world tour); a stage version of David Mamet's House of Games (Almeida); The Big Fellah (Out of Joint); Pub Quiz is Life (Hull Truck); England People Very Nice (National Theatre); The English Game (Headlong); Up On Roof (Hull Truck); In The Club (Hampstead Theatre); a version of Molière's The Hypochondriac (Almeida); The Heretic (Royal Court); Harvest (Royal Court);  Honeymoon Suite (Royal Court); The God Botherers (Bush); Smack Family Robinson (Newcastle Live); The Mentalists (Loft, National Theatre); Mr England (Sheffield Crucible).
Radio plays include Of Rats and Men, Yesterday, Unsinkable, and Robin Hood's Revenge.
Awards For One Man, Two Guvnors: Evening Standard Award for Best Play, Critics' Circle Best Play, whatsonstage.com Award for Best New Comedy. For The Heretic: Evening Standard Award for Best Play. For Harvest: Critics' Circle Best New Play. For Honeymoon Suite: Pearson Play of the Year. For Under the Whaleback: George Devine Award.
October 2017
Clive Coleman is a barrister turned BBC News Legal Correspondent and an award-winning comedy writer. 
Television includes Chambers, Spitting Image, Dead Ringers.
Radio includes the sitcoms Chambers, Hair in the Gate and Spending My Inheritance, and the sketch shows Control Group 6 (written with Richard Bean and Andy Clifford), Weekending and The News Huddlines. 
Theatre He and Richard Bean also collaborated on Great Britain for the National Theatre, directed by Nicholas Hytner.
October 2017
Nicholas Hytner co-founded London Theatre Company with Nick Starr. For the Bridge Theatre he has directed Young Marx, Julius Caesar, Allelujah!, Alys, Always, A Midsummer Night's Dream, Two Ladies, Beat the Devil, The Shrine, Bed Among the Lentils and A Christmas Carol.  Previously he was Director of the National Theatre from 2003 to 2015. His book Balancing Acts is published by Jonathan Cape.
August 2020
Theatre includes Charlie and the Chocolate Factory (London/New York), Mamma Mia!, Joseph and the Amazing Technicolor Dreamcoat, and Art (all worldwide), A Raisin the Sun (NY), God of Carnage and Bombay Dreams (London/Broadway), La Bête (London/NY), Doctor Doolittle (Hammersmith Apollo), and The Children's Hour and The Lady in the Van in the West End. For the National Theatre: Three Days in the Country, One Man, Two Guvnors (also West End/Broadway), London Assurance, She Stoops to Conquer, England People Very Nice, What the Butler Saw, The Rose Tattoo, The Madness of George III, The Alchemist, The Duchess of Malfi, Life x 3, Arcadia, Once in a Lifetime, Henry IV parts 1 & 2, and The Wind in the Willows. For the Donmar Warehouse: Welcome Home Captain Fox, The Blue Room (also Broadway), Company (also West End), Insignificance, The Front Page and Uncle Vanya/Twelfth Night (costumes only, also BAM/NY). For the Royal Court: Tribes, Birthday, Mouth to Mouth, Wild East, Hysteria, Six Degrees of Separation and The Kitchen. Other theatre includes Electra (Old Vic); Rope, Betrayal, Party Time and Volpone (Almeida); The Unexpected Man, Measure for Measure, Hamlet, The Wizard of  Oz, Much Ado About Nothing and The Comedy of Errors for the RSC; and Funny Girl at Chichester Festival Theatre.
Opera includes Macbeth and The Queen of Spades (Metropolitan, NY); The Mikado (Lyric, Chicago); Peter Grimes (Opera North); Montag aus Licht (Costumes – La Scala, Milan); Hansel and Gretel (Sydney Opera House); Carmen (Opera Comique, Paris); and  Don Quixote (Royal Ballet Company).
Films include Costume Design for The Madness of King George.
Awards Five Olivier Awards; two Critics' Circle Awards and five nominations for Tony Awards.
October 2017
Theatre includes, in the West End: Chitty Chitty Bang Bang (also Broadway), The Sound of Music (also UK tour and Toronto); Our House (also UK tour); Up for Grabs; Grease (also UK and world tour); West Side Story (also UK tour); Spend Spend Spend; Neville's Island; Follies; Passion (also UK tour); The Rise and Fall of Little Voice; American Buffalo; The Bodyguard (also
UK tour); Sweeney Todd (from Chichester); Enron (from Chichester; also Broadway); Gypsy (from Chichester); Funny Girl (from Menier Chocolate Factory; and UK tour); and Lady Day at Emerson's Bar and Grill; Don Juan in Soho. At the Almeida: The Iceman Cometh, The Judas Kiss (also Broadway), Hamlet (also Broadway). At the National Theatre: Copenhagen (also West End and Broadway), Democracy (also West End and Broadway), All My Sons; Racing Demon (also Broadway); Les Parents Terribles (also Broadway as Indiscretions); Cat on a Hot Tin Roof (also Broadway), Mourning Becomes Electra, The History Boys, The Habit of Art, Emperor and Galilean, One Man, Two Guvnors and The Hard Problem. At the Donmar Warehouse and on Broadway: The Real Thing, Les Liaisons Dangereuses. At Chichester Festival Theatre 2017: Forty Years On, Sweet Bird of Youth. Recently in London Sunset Boulevard (Coliseum), The Girl From the North Country (Old Vic).
Opera includes productions for ENO, The Royal Opera House, WNO, Opera North and Glyndebourne.
Dance includes Work for LCDT, The Royal Ballet, Scottish Ballet, Northern Ballet, SWRB and Rambert Dance Company.
Other work includes Kate Bush Live: Before the Dawn (Eventim Apollo).
Awards 1992, 1995, 2000, 2002, 2010 and 2016 Olivier Awards for Lighting Design; 2013 and 2015 whatsonstage Awards for Lighting Design; 2006 Tony Award for Best Lighting Design of a Play; and a Welsh BAFTA in 2000.
October 2017
Theatre includes Julius Caesar and Young Marx at The Bridge; This is My Family at Chichester; Local Hero at the Lyceum, Edinburgh; Shipwreck at the Almeida; The Jungle at the Young Vic, West End, New York and San Francisco; The Inheritance at the Young Vic and in the West End; Caroline, or Change at Chichester, Hampstead and in the West End; Rutherford and Sons, Pericles, Beginning, Macbeth, Absolute Hell and Amadeus at the National Theatre; The Prime of Miss Jean Brodie at the Donmar Warehouse; Mary Stuart at the Almeida (and West End).
Awards include Olivier Award for Saint Joan (NT); Olivier nominations for Amadeus (NT 2017) and The Inheritance (West End 2019); Tony, Drama Desk and Olivier Awards for Billy Elliot the Musical; Evening Standard Award for Festen; Tony Award nominations for Mary Stuart and One Man, Two Guvnors. 
paularditti.com
June 2019
Theatre includes A Midsummer Night's Dream, Alys, Always and Young Marx for The Bridge; Bartholomew Fair for the Globe; The Country Wife, Canvas and Wallenstein at Chichester; Don Quixote, The Fantastic Follies of Mrs Rich, The Hypocrite, The Rover and Oppenheimer for the RSC at Stratford and in the West End; Saint George and the Dragon, A Small Family Business, Great Britain (also West End), Timon of Athens, One Man, Two Guvnors (also West End, Broadway and international tour; Tony Award nominee and winner of Drama Desk Award for Best Score), Travelling Light, England People Very Nice, The Man of Mode, The Alchemist and Southwark Fair for the National Theatre; Breakfast at Tiffany's (also West End), Our Country's Good and Richard III for Leicester Curve; Twelfth Night for Sheffield Crucible and tour; The Dishwashers for Birmingham Rep and tour; The Memory of Water for New Vic, Stoke; The Good Person of Sichuan for Colchester Mercury; James and the Giant Peach for Birmingham Stage; Broken Glass for the Tricycle (also West End); Canvas and Wallenstein at Chichester; Bollywood Jane and Salonika for West Yorkshire Playhouse; London Assurance for the Watermill and tour; 101 Dalmatians for Royal & Derngate Northampton; and The Taming of the Shrew, Macbeth, The Importance of Being Earnest, Much Ado About Nothing, Twelfth Night and The Blue Diamond of Azkabar for Changeling Theatre and tour.
Musicals include Drunk for Leicester Curve and Bridewell, Tracy Beaker Gets Real for Nottingham Playhouse and UK tour; Simply Cinderella for Leicester Curve; The Beggars Musical for Changeling and tour; Spittin' Distance for Stephen Joseph and National Theatre Studio; and Three Sides for the Bridewell, Finborough and 45th Street Theatre, NY.
Dance includes Jekyll & Hyde at the Old Vic.
Film & television include Saving Santa, A Christmas Carol Goes Wrong, Upstart Crow, The Pact, I Want My Wife Back, Marley's Ghosts, The Bleak Old Shop of Stuff, Monsters Behind the Iron Curtain and Arena: National Theatre On Stage.
September 2019
Fight Director
Kate Waters
Kate Waters is one of only three women on the Equity Register of Fight Directors. 
Theatre includes Young Marx and Julius Caesar at The Bridge; Othello, As You Like It, Our Country's Good, Rules For Living, Hotel, The Curious Incident of the Dog in the Night-Time (also West End), The Comedy of Errors, One Man Two Guvnors (also West End, Broadway & world tour), Frankenstein, Season's Greetings, Hamlet, Women Beware Women and War Horse (also West End) for the National Theatre. 
Other stage work includes Hand To God and From Here to Eternity in the West End; King Lear and Black Comedy at Chichester Festival Theatre; The Last Goodbye at The Old Globe, San Diego, California; The Maids, Macbeth, Richard III, East Is East, The Ruling Class, The Hothouse, and The Pride for Jamie Lloyd Company; The Merchant of Venice, Antony and Cleopatra, Dr Faustus and Henry V at The Globe; Liberian Girl at the Royal Court; Urinetown The Musical at St James Theatre and West End; Don Giovanni at the ROH; Henry IV and Julius Caesar at the Donmar Warehouse and St Ann's Warehouse NYC; Romeo and Juliet, Macbeth, Two Noble Kinsmen, Hamlet, Titus Andronicus, King Lear, Love's Sacrifice, and Dr Faustus for the RSC; Noises Off (and West End); The Duchess of Malfi and Sweet Bird of Youth at the Old Vic; Jesus Christ Superstar, Peter Pan, Seven Brides For Seven Brothers, A Midsummer Night's Dream, Porgy and Bess and Lord of the Flies at Regent's Park; Disgraced at the Bush; Bugsy Malone, Saved, Blasted and Herons at the Lyric, Hammersmith; and  Numerous productions for major regional theatres. 
Television Kate Waters is a regular fight director for Coronation Street, Emmerdale and Hollyoaks. She also choreographed the fights for Coronation Street Live 2015.
June 2019