Julius Caesar
Caesar returns in triumph to Rome and the people pour out of their homes to celebrate. Alarmed by the autocrat's popularity, the educated élite conspire to bring him down. After his assassination, civil war erupts on the streets of the capital. 
We transform the Bridge Theatre's auditorium for Nicholas Hytner's promenade staging of Shakespeare's political thriller.
Audiences can choose from two ways of experiencing the production: sit in-the-round and look onto the arena, or become part of the action and join the crowd of hundreds that stand amongst the street party greeting Caesar's triumphant return to Rome, the congress that witnesses his murder and the civil war that erupts in the wake of his assassination.
Ben Whishaw and Michelle Fairley play Brutus and Cassius, leaders of the coup, David Calder plays Caesar and David Morrissey is Mark Antony, who brings Rome back under control after the conspirators' defeat.
The production designer is Bunny Christie, with costumes by Christina Cunningham, lighting by Bruno Poet and music by Nick Powell.
Julius Caesar will be broadcast by National Theatre Live on 22 March 2018.
"VISCERAL AND POLITICALLY URGENT"

The Guardian ★★★★
"JOIN THE MOB FOR THIS ABSORBING LOOK AT THE DANGERS OF POPULISM"

Evening Standard ★★★★
"TREMENDOUSLY GRIPPING"

Time Out ★★★★
"A SHAKESPEARE FOR THE 21ST CENTURY"

Sunday Times ★★★★
Choose Dates & Book
General Information
Ticket Prices
Seated tickets: £65, £50, £35, £25, £15
Be a part of the action:  Immersive Standing Tickets £25 (£15 Young Bridge Members)
Reduced prices for previews and midweek matinees
Premium tickets available
Download TodayTix to get exclusive £15 mob tickets
Performance Schedule
Tuesday to Saturday 7.45pm, Wednesday & Saturday 2.30pm & Sunday 3pm
Performances on Tuesday 30 January & Thursday 22 March will start at 7pm
Length
2 hours (no interval)
Additional Information
Performances will contain flashing lights and gun shots
Almonds will be served in the auditorium pre-show
Immersive tickets holders will need to leave bags and coats in the free cloakroom during the performance
From the programme
Peter Holland
In the summer of 2017 a number of Republicans in the US were incensed to learn that the New York Public Theatre's production of Julius Caesar had Caesar made to look somewhat like (orange hair, red tie) and gesturing even more like Donald Trump…
More →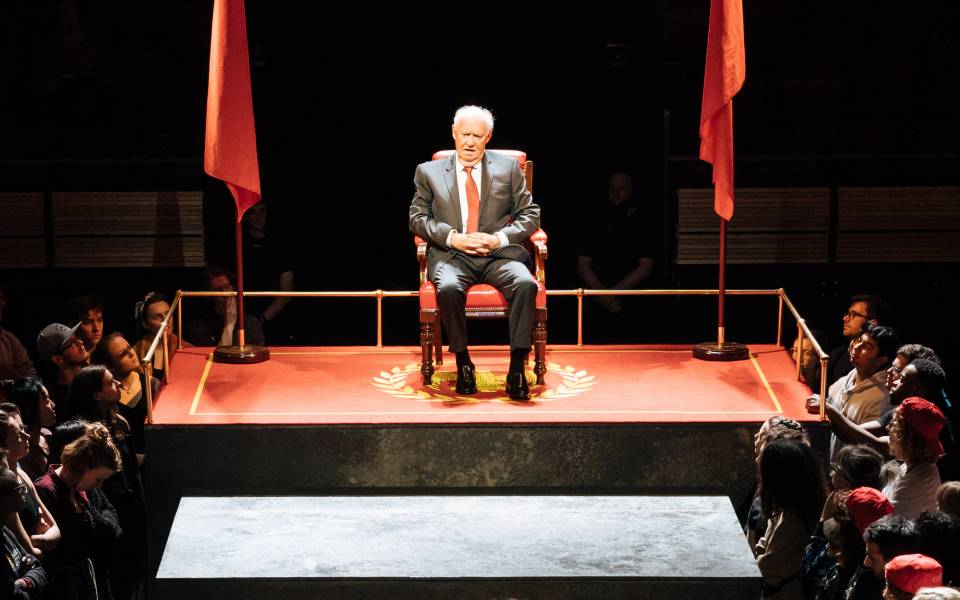 Mary Beard
The murder of Julius Caesar on 15 March 44 BCE – the 'Ides of March' in the Roman calendar – is the world's most famous assassination. It set the pattern for the future. For many of the Roman emperors who followed Caesar likewise came to violent ends…
More →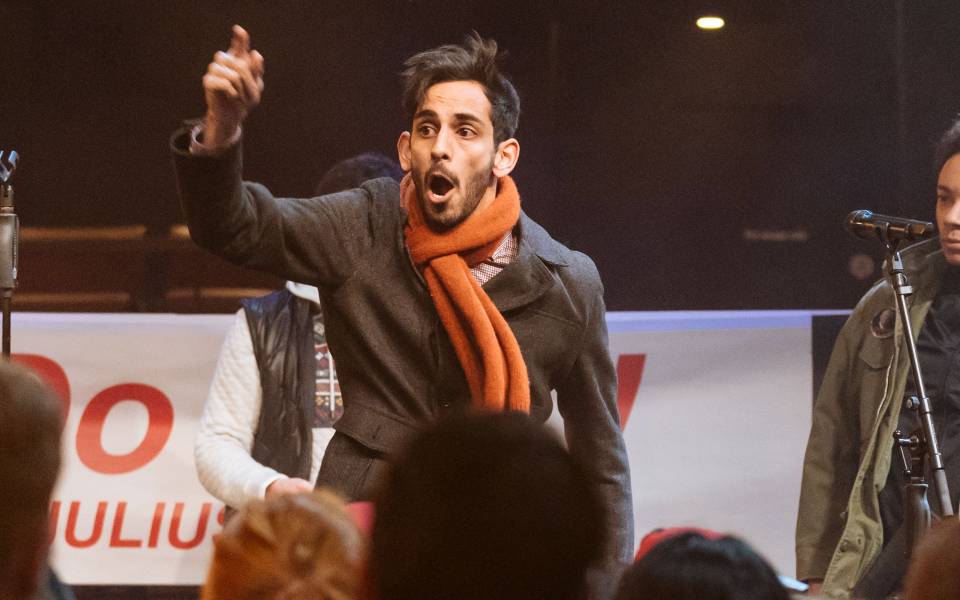 Matthew d'Ancona
"Cowards die many times before their deaths: / The valiant never taste of death but once". On 16 December 1977, the imprisoned Nelson Mandela signed his name beside these lines from Julius Caesar in the hidden copy of Shakespeare's works…
More →
Cast
Creative Team
Writer
William Shakespeare
Production Design
Bunny Christie
Costume Design
Christina Cunningham
Lighting Design
Bruno Poet
Sound Design
Paul Arditti
Fight Director
Kate Waters